English Classes - Learning by Doing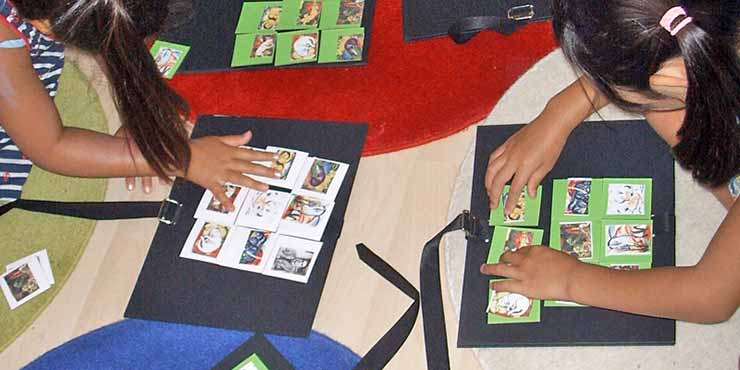 In these courses, we discover the world – in English! Whether we are doing handicrafts, listen to popular English songs or do an exciting exploration of current topics: Here, children experience English from a different perspective – because trying English together in a creative environment means learning with all senses. The children concentrate on their handicraft and their sensual impressions and understand the English equivalents for terms and actions in passing. Using illustrative materials, English games and books, they absorb the new language with ease and enthusiasm and are able to link it directly to their activities. Here, learning English becomes a creative experience for children, making it well suited for complementing school lessons. The educational success of learning by activity is scientifically proven.
3 trial lessons for € 49,00
including the legally applicable VAT
* Level 2: Children master short sentences
The children get to know a lot of new words and sentences, especially through creative work and handicrafts.
Stimmen von
Eltern und Erziehern
Unser Sohn nimmt seit September 2018 am Englischkurs teil. Ihm gefällt es sehr gut, er geht gerne dort hin. Er hat leicht den Anschluss gefunden, da es eine überschaubare und eine konstante Gruppe ist. Dadurch haben sich auch Freundschaften gebildet. Für uns ist es auch wichtig, dass unser Sohn bevor er in die 3. Klasse kommt mit der englischen Sprache vertraut ist und in der Schule leichter hat. Da unser Sohn bilingual aufwächst haben wir uns Gedanken gemacht, ob es nicht zuviel mit noch einer Sprache wäre. Diese Sorge hat sich gelegt, weil Caroline die Englisch-Stunde spielerisch gestaltet. Seit dem unser Sohn bei Caroline ist nimmt er die englische Sprache noch bewusster war, und stellt immer wieder Fragen und singt englische Lieder, die er im Kurs gelernt hat. Für uns war es wichtig, dass die Lehrerin Englisch-Muttersprachler ist. Wir wünschen uns weiterhin, dass diese positive Atmosphäre bleibt.
Which English course is right for your child?
I will gladly advise you!